Quick Start Guide
QMP-SynqNet Controller
Install Controller
PCI
The standard QMP-SynqNet-PCI motion controller has a universal PCI interface, which operates in either 3.3V or 5V signaling backplanes. The 120-pin edge connector plugs into the host PCI bus slot. All motion control I/O is through the RJ-45 and HD15 connectors on the rear panel.
QMP-SynqNet-PCI-RJ-1200
PN: T131-0001

UL Certification: File# E254128
(see note)
CAUTION
This hardware is for use only with compatible UL listed personal computers that have Installation Instructions detailing user installation of card cage accessories.
View UL Certification.
Install PCB into the host machine
Push the 120-pin edge connector into the mating connector on the host machine.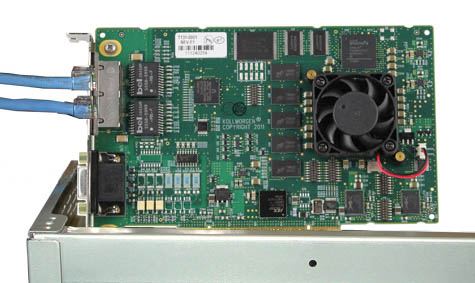 The following image displays an installed QMP-SynqNet-PCI controller in a standard PCI slot on a CPU.