Drive Firmware Files:
Kollmorgen S1800 Drive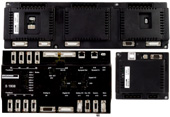 For more documentation, please see the Kollmorgen S1800 Drive section.
Drive Firmware Files
To download a firmware file, click on the "download" link and save the .zip file to your local drive. Simply unzip the file and place the firmware in the \XMP\Bin directory. If you are unsure as to which firmware you should use, please contact sep@danahermotion.com.
Firmware Version 131.55

Type

Filename

Release (*.zip)

Release Note

N/A