Motion State Machine
The controller's firmware uses a state machine for motion. The motion state machine has three states (Moving, Idle, Error). Transitions between states occur after a command (Start, Resume, Modify, Stop, E-Stop, Abort, Reset) or after an event (Done).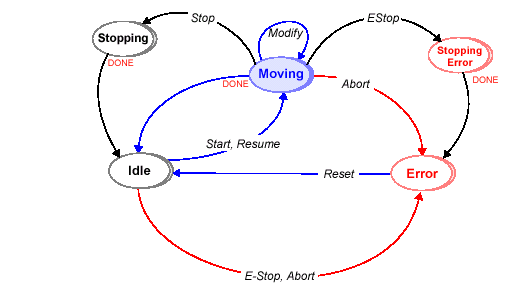 MPIActions can come from the host or the firmware. For safety, there are restrictions on who can generate certain MPIActions:
The firmware can never issue Start.
The firmware can never issue Resume.
The firmware can never issue Reset.
The host can never issue Done.
MPIAction
Originating from Host
Originating from XMP Firmware
Start
Resume
Reset
Stop
mpiMotionXxxxMove*
mpiMotionAction(motion, MPIActionRESUME)
mpiMotionAction(motion, MPIActionRESET)
mpiMotionAction(motion, MPIActionSTOP)
Never
Never
Never
Event
E_Stop
Abort
mpiMotionAction(motion, MPIActionE_STOP)
mpiMotionAction(motion, MPIActionABORT)
Event
Event
Done
Never
If Settled and In_Position
* Where Xxxx is the move type.