Kollmorgen's motion controllers are shipped with NULL firmware. Therefore, the first step is to download the proper firmware for the controller. When starting the Motion Console for the first time, it automatically prompts to download firmware to the controller and indicates which version should be downloaded. In the example below, firmware version 863 is downloaded. Click Yes to download the firmware.

The next window requires locating the firmware file. Choose the QMPxxxxx.bin ("xxxxx"
represents the firmware version) firmware file from the mei\controller directory. The standard
software release includes one QMP controller firmware file. QMP863A1.bin is used in this
example.
If custom software is installed, there will be an additional firmware file in the same directory. Each custom firmware file is numbered: Q1Pxxxxx.bin, Q2Pxxxxx.bin, etc. If custom firmware is required, select the proper custom QnPxxxxx.bin file from the same directory.
Select the appropriate firmware file and click Open.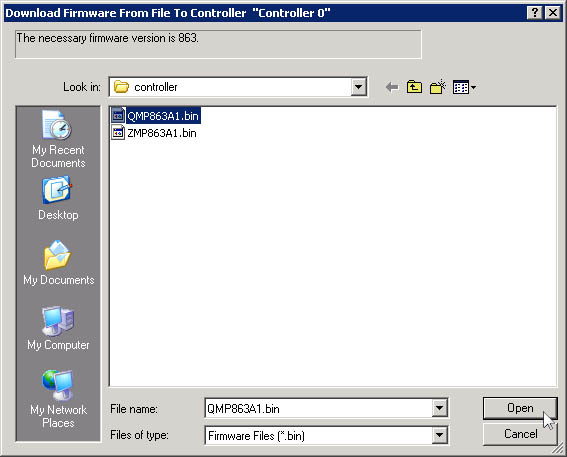 When the verification window displays, click Yes. It will take approximately 30 seconds to download the firmware to the controller.

Troubleshooting
What if I accidentally downloaded the wrong version or need to change the firmware version on the controller?

Once firmware is loaded onto the controller for the first time, the version can be changed
manually in Motion Console's Controller Summary window. Under the Action tab, click the FW
Download button and then select the correct firmware file from the mei\controller directory.