Soonhan:
SynqNet Remote Motion Block (Pulse)
IO2K-SQP2
Soonhan's Remote Motion Block (RMB), IO2K-SQP2, is designed to connect stepper motor drive or position mode AC-servo drive into a SynqNet system. Each IO2K-SQP2 can support up to 2 axes of drives including encoder feedback, transceivers, dedicated I/O and a lot of user I/O. By providing screw terminal connection with motor drive, IO2K-SQP2 can remove accessories for optional local motion block and improve reliability in your system. IO2K-SQP2 has 26 discrete user I/O such as 9 inputs and 4 outputs per axis, making it simple to integrate machine I/O into a SynqNet network.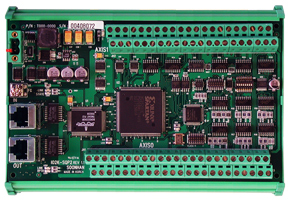 For more information, please go to www.soonhan.com.
Drive FPGA Table
| Node Type | Option | Valid FPGAs | Name |
| --- | --- | --- | --- |
| 0x000A0001 | 0x0000000C | 0xC0FE002F | |
| 0x000A0001 | 0x0000000D | 0xC0FE002F | |