RMB-10V2-SynqNet Overview
The RMB-10V2-SynqNet is designed to connect conventional analog drives into a SynqNet system. Each Remote Motion Block can support up to four axes of high precision analog drives, including digital encoder feedback, DAC outputs, transceivers, and associated I/O.
The RMB is designed to support instances where a SynqNet drive is not available or suitable. Remote Motion Blocks are also perfect for rapid prototyping with existing machine installations.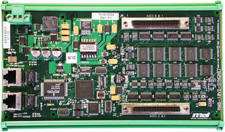 Remote Motion Blocks allow for the integration of any drive or node on a SynqNet network. The RMB acts as the analog to digital conduit between the drive and the controller. For applications where a SynqNet node is unavailable, a RMB can easily be integrated on the network to accommodate a variety of applications and I/O.