If the unit is housed in a Phoenix Contact plastic extrusion (Phoenix PN: 29 51 02 0/x) then an earthing end-plate may be used (Phoenix PN: 29 59 46 3) in conjunction with a hole (H701) located by the IN port.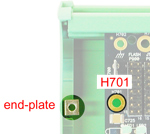 When using a DIN rail, the preferred method for grounding is to connect the end-plate to H701 via a screw. Then connect DIN rail to the chassis. Otherwise a fast-on E700 should be used with a short length of cable.
If you are mounting straight to a chassis then ground H701, H706, and H703.
If the unit is mounted on pillars then H706 and H703 are available for connection to a bonding pillar.