SQIO-HSIN32: Features
The SQIO-HSIN32 is a High Speed Digital Input Board. It's a standard MEI hardware module that supports 32 opto isolated digital inputs.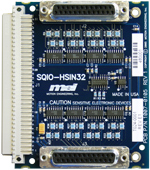 Core Features

32 opto-isolated, high-speed digital inputs
16 Captures/Probes (8/motor)
Up to 16 simultaneous high-speed capture inputs (from a direct connection to a 10 MHz FPGA)
Hardware latch speed with latency < 350 nanoseconds
To achieve its high speed ability, the T024-0001 SQIO-HSIN32 module does not use an SPI bus to relay the I/O signaling. Instead, its 32-opto inputs are directly connected to the FPGA. This requires that the T024-0001 be directly mated to a SQIO-SQID and not bussed through a T020-0001, T021-0001 or T022-0001,-2. The T024-0001 supports such features as Capture and Probe. To support this specialized functionality, the T024-0001 requires two motors allocated to the module from the controller. The T024-0001 can only be mated to the T019-0004 since it is built with a larger FPGA to support the additional logic required by the T024-0001.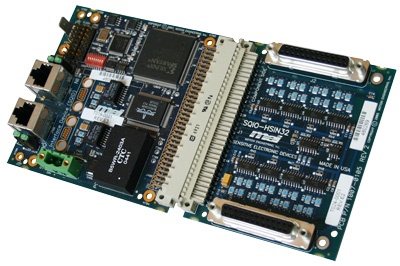 NOTE: The HSIN must be connected to the custom SQID (T019-0004).
Since the SQIO-HSIN32 was designed on the popular 100mm width board, it offers immense flexibility. It can be deployed in a plastic extrusion as part of a DIN rail raft, or it can be mounted directly on pillars or installed in a 3U rack.
The chief elements of the SQIO-HSIN32 are shown in the following block diagram below: